2008.10.28 Tue
Please stay close to me
One of our staff members, who has been taking care of Cherry for a long time, asked me to feature her on the blog, and took the time to put together some notes and photographs about her (along with Tomokichi).
It was seven years ago that Cherry, whose owners were living in an apartment, came to ARK due to "family issues". She was one and a half years old. Cherry is a cute, cheery Lab mix who loves to play with people. She can sit, shake, wait, lay down, and fetch. Why is it that a smart, playful dog like Cherry has yet to find a foster home?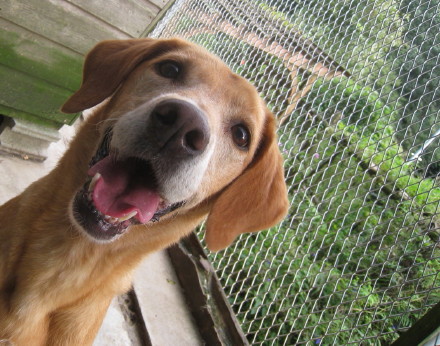 Cherry pulls hard on the leash when she walks, and barks at other dogs that she meets. That's why it has been difficult to recommend her to potential adopters. If only she could settle down with her own loving family, I'm sure she would be freed from her pent-up stress and be a good, calm girl. When I bait her with treats, she really concentrates and stops barking and pulling on her walks.
Cherry has a habit of obsessively licking her hind leg to the point that it has become a sore. We think it's her way of dealing with the loneliness she feels. The small amount of time that we can spend with Cherry isn't enough, and this breaks our hearts.
Even if they can't adopt her, the volunteers who come and spend time with Cherry greatly improve her quality of life.
Cherry has been waiting seven years for her new foster family, and there is no guarantee that she will find one anytime soon. Yet we believe that there is a family out there for her. We want to give her that chance.
スポンサーサイト
| Dog | 14:49 | comments:0 | trackbacks:0 | TOP↑