2012.11.07 Wed
ARK-rabbits rehomed!
Great news!
Rabbit siblings,
Nova
and
Peter
, were finally rehomed! They spent 6 years in ARK!
Just after their mother was rescued 6 years ago, Nova and Peter were born in ARK. So for these two, we know exactly how old they are.
Two of the four siblings are currently living with their mother, Pyonko.
Here's a picture from when they were baby rabbits♪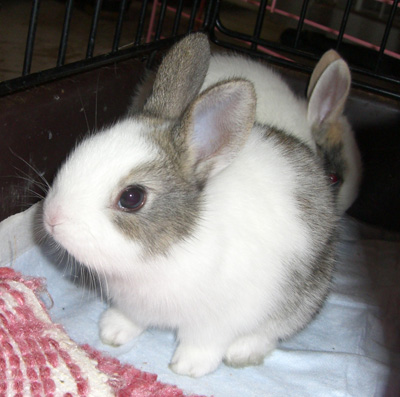 This is Peter(female) and Nova(male) is in the back.
Look, how adorable they were!!!
Both were born and grew up in Nose. They are used to our cold winters and hot summers. Compared to other rescued rabbits, they are quite tough and wild
They have never lived inside a house. This means they are not good at using a litter box and are not that friendly. We almost gave up finding them a family.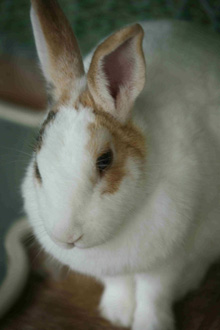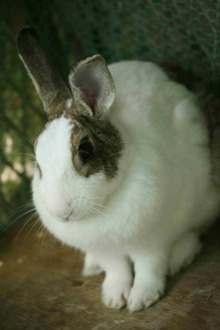 But we could not completely give up and uploaded their profile on our website. It has been 6 years already.
But the time has come!
They both were adopted together!
The adopter just lost their rabbit who was also adopted from ARK several years ago.
Although they are still mourning the loss of their rabbit, they deiced to adopt other one.
These two rely on each other so much. If we separate them when one of them is sick, the condition will get worse. We really wanted them to be adopted together.
The adopter considered it and decided to adopt both Peter and Nova.
Almost perfect, but we were worried about one thing: the flight.
We did not worry about the flight for rabbits such as Kanta, who just flew to Tokyo without any problems. But these two have never left Nose. We were worried whether they could bear the stress from being transported.
Their father, Chip, panicked and injured himself when he was put in a car before.
We carefully put pasture grass in a cardboard box as a buffer and put the box into a carry case.
They are together for their comfort.
Both of them were so quiet on the way to the airport. We were relieved to see that they didn't panic in the car.
Several hours later, it was confirmed they arrived their forever home safely. We finally could celebrate this adoption.
The adopter kindly sent us their photos!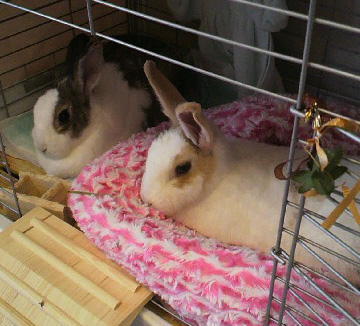 It is hard to believe they never lived inside of a house! They look so settled!
Nova's new name is "Ryu" and Peter became "Ayame". I am sure Peter is so happy to finally have a feminine name♪
Peter looked worried in the box and put her face under Nova's body. But she got used to her new life soon and now she is good and eats well.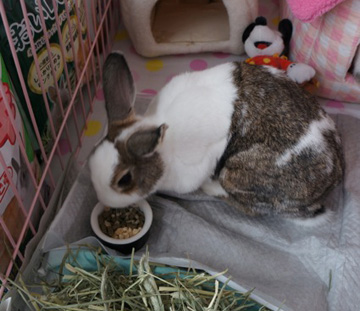 Look how relaxed she is. She shows her belly when she sleeps besides Nova!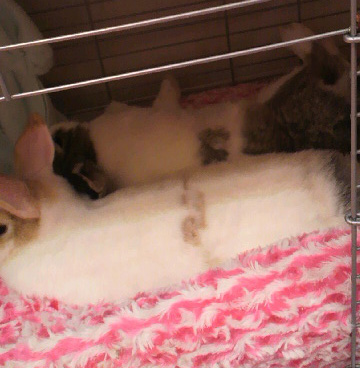 We were worried in the beginning, but now we are so happy. It is amazing to see how well animals can adapt. We are sure they are going to be spoiled from now on!
Thank you so much for adopting them and also thanks to all the supporters of Nova & Peter!
All ARK rabbits have now been adopted!!
★
On 10th Nov [Tokyo ARK] Adoption event at Dog Life Design ☆
http://www.arkbark.net/?q=en/node/2572
★
On 11th Nov [Tokyo ARK] Adoption event at Dog salon Kugenuma in Fujisawa☆
http://www.arkbark.net/?q=en/node/4605
★
On 11th Nov [Osaka ARK] Adoption event at Field Note in Nara☆
Ms.Oliver will have a small presentation from 11am. Please come join us!
http://www.arkbark.net/?q=en/node/4543
スポンサーサイト
| Rehoming | 17:24 | comments:0 | trackbacks(-) | TOP↑