2015.03.03 Tue
Parinko the Charmer
Parinko
is very proud of his blue eyes and fluffy fur.
He joined ARK on a very cold day of February last year.
Originally living in a new apartment building that did not accept pets, he was sent out by his previous owner and had to endure the cold outside for about three months.
He was rescued by a neighbor, and because of his background he was back to being a stray cat by the time he arrived.
Trying to get near with your bare hands was too dangerous, he was hissing, biting and clawing everything that touched him, even toys from a distance. He was a very savage beast.
Even after 2 months, his face still looked like this.
As he had difficulties getting used to living in a wide room, we had to move him to a smaller one.
After that, it was only a matter of time until he understood what people were doing, and it slowly became possible to play and stroke him.
"Who are you talking about?"
Now he turned to be a very sweet boy who loved to be cuddled.
He starts purring as soon as people step in, and rubs his body against your legs.
He got used to his environment so well so that not only does he do that to our staff, but also to any volunteers and will gladly cuddle with them.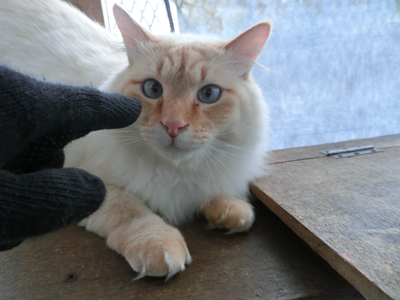 We are talking about you! "Hmm? Me?"
He has no problem living with his previous room-mate Karinto, but when we tried to put him with other cats, some fights were started. It might be a better idea for owners to have no other pets in the house.
He is not good with changes of environment, so it might take some time until he gets used to his new home. Once he got used to it though, he will be a very sweet and very understanding companion.
Usually cats who grew up in a house get used to a new house much faster that they would in a shelter.
You're a sweet boy. "I know"
Living in one of the far rooms of ARK, it can be difficult to find him, and having the chance to watch him move can be rare. Please take a look at this video!
http://youtu.be/0Tp-TxihFlg
He can be so sweet and loving that the staff gets embarrassed.
Please do not hesitate to contact us if you want a cat who is both handsome and sweet!
Parinko's profile page:
http://arkbark.net/?q=ja/node/5876
If you have more time, here is one more.
http://youtu.be/SI2vLoWCYaE
There are many other animals waiting for a new home!
http://www.arkbark.net/?q=en/node/80
For people who might be interested in adopting some of our boys and girls:
http://www.arkbark.net/?q=ja/node/143
スポンサーサイト
| Cat | 14:27 | comments:0 | trackbacks(-) | TOP↑